TODAY: Gibraltar
FRIDAY: Turkey
SATURDAY: Congo-Brazzaville
Gibraltar is reeling from an incident on Tuesday when a fuel tank
exploded
at a waste treatment facility on the port's north mole at about 3:30 PM local time.
Right next to the affected tank was a Royal Caribbean cruise ship, Independence of the Seas, carrying 3,892 passengers. 12 of those passengers received
medical attention
on board, most with minor burns. Two passengers were on shore; neither was injured. The ship pulled away from the dock immediately upon the explosion sans the passengers on shore, then headed to its next stop of Cannes, France. The two passengers will be looked after by Royal Caribbean until they can
rejoin
the ship.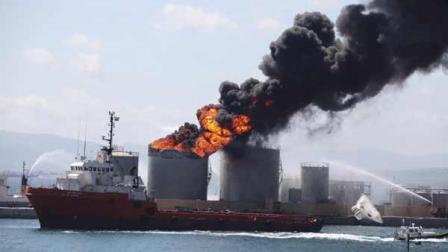 (AP Photo/Alicia Jimenez)
Two workers who were doing welding work were injured. Both are Spanish nationals. One, age 40, was hospitalized in Seville with life-threatening burns covering 70% of his body. He remains in critical condition. The other, age 25, had minor burns.
The resulting fire took 14 hours to put out, being
extinguished
at 5 AM local time. Some oil made it into the Bay of Gibraltar and neighboring beaches; a cleanup operation is underway.
With the fire out, also underway is an investigation as to the cause of the blast. That as of right now remains uncertain, though preliminary speculation lies chiefly with a stray welding spark.
According
to Gibraltar's Chief Minister (effective head of state) Peter Caruana, "Once it was established there were welding operations going on, on top of the very tank at the time it exploded, that makes that a frontrunner for a likely explanation."